Tours that explore the Outback
Whether you're interested in spectacular scenery, amazing wildlife, captivating history or stunning wildflowers, BOOBOOK Ecotours has a range of outback destinations which offer something for everyone.
Wallaroo is a working cattle property covering 71 000 acres in Central Queensland's Sandstone Belt north of Roma. Nestled in the eastern end of the Carnarvon Range, Wallaroo features rugged sandstone ridges, stunning cliff lines, amazing rock formations and secluded cycad-filled gorges. Wallaroo is rich in European and Aboriginal history and home to over 400 species of plants including ferns, orchids, spectacular wildflowers and rare species such as Ooline.
Be amazed by secretive wildlife such as the Leaf-tailed Gecko and gorgeous Greater Gliders. BOOBOOK's Discover Carnarvon Ranges tours offer exclusive access to this unique property while enjoying country hospitality. See it at your pace with our expert ecologist guides.
Nuggett Hills and Echo Hills are two contrasting farming and grazing properties located within a stone's throw of Roma. Echo Hills offers a rare insight into sustainable agriculture integrated with coal seam gas production. The adjoining Nuggett Hills contains a more rugged, mostly vegetated landscape bisected by Eurombah Creek. With its permanent waterholes the creek has abundant wildlife including turtles, platypus and water birds. Keep an eye out for iconic Australian wildlife including kangaroos, wallabies, echidnas, emus, brolgas and bustards. View local vegetation types including brigalow, dry rainforest, cypress pine and eucalypt woodlands and learn about bush tucker. Our Wheat, Wells and Wildlife tour offers a unique opportunity to connect with the land, hear bush tales and see production and nature conservation in balance.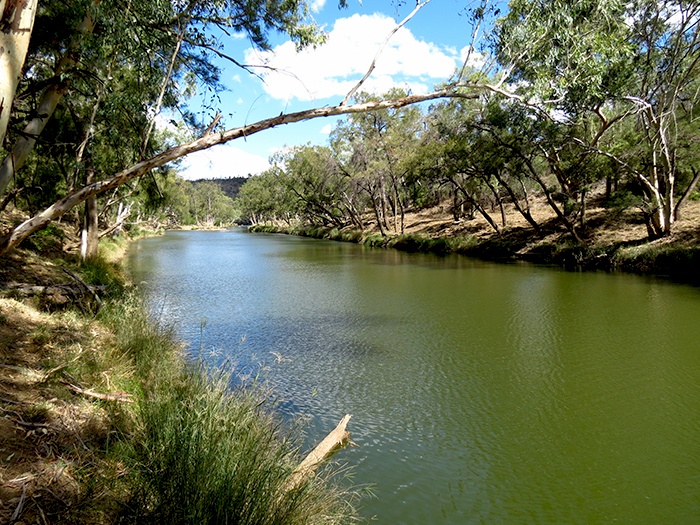 BOOBOOK's National Park tours take you to some of inland Queensland's most beautiful landscapes. The jewel in the crown is Carnarvon Gorge with its spectacular cliffs, crystal clear creek, lush vegetation and Aboriginal rock art. But let us take you to some little known and no less impressive hideaways including the Beilba and Lonesome sections of Expedition National Park with their stunning sandstone scenery. Lake Nuga Nuga, central Queensland's largest natural lake, features impressive displays of water lilies, stunning mountain reflections and abundant bird life. If you want a true taste of the Outback then get well off the beaten track and see Thrushton National Park with its mulga and spinifex plains, wildflowers and sheep station history. Scheduling for National Park tours is variable so contact us to book your exclusive voyage through one of these amazing locations.
For flora and garden enthusiasts enquire about the Wildflower Wander. We take you to some of southern inland Queensland's best outback country gardens and wildflower hotspots including the renowned Gurulmundi area near Miles.
If there's any other destination on your bucket list let us know… we'll take you there and our expert ecologists will help you explore and uncover these hidden worlds. Contact our team today to organise a quote.